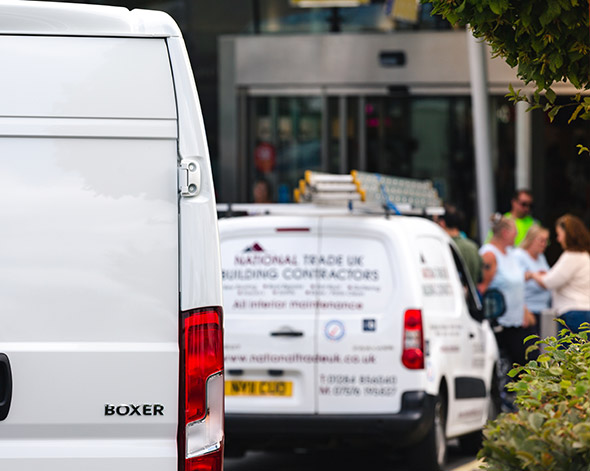 The Motorway Services Ad-van-tage
At all times of the year, our country relies on a small army of people working hard to get things built, fixed and delivered.
Spending a lot of time on the road is part and parcel of their jobs, and that's why a wide variety of vans and trucks can always be seen in the car parks of Motorway Services around Britain. In fact, YouGov tells us that 71% of van owners/drivers use Motorway Services, and they are 25% more likely than the average person to do so.
Therefore, we took the opportunity to use our monthly bespoke Drive Panel research to find out a little more about the van drivers and owners who frequent our Services on a regular basis.
Doing all that mileage can wear a van out, so these folks are often in the market for a replacement. Over a quarter of van drivers we spoke to were considering purchasing a van in the next 12 months, with 92% of those buyers interested in buying a brand new vehicle.
Looking at alternative fuel vans, 56% of our owner/drivers were interested in hybrid and electric vehicles, over a third of whom would be influenced to buy electric if they were offered a scrappage deal on their existing model.
Our research didn't concentrate solely on van buying, however. We also took the opportunity to ask what van drivers worry about most, and the poor condition of roads was the biggest bugbear, ahead of a lack of parking and having their tools stolen. On the subject of van security, 53% informed us that they would consider upgrading their van alarm, while half of drivers would also consider upgraded deadlocks or slamlocks.
To take their mind off of potholes and parking spaces, van drivers need snacks to keep themselves going! Nearly a quarter of those we surveyed buy snacks at least daily, while 13% of those who visit Motorway Services as part of their job say they snack several times a day.
So they're looking to update their vans, possibly to alternative fuels, they need extra security for their vehicle and tools, and they love to snack. They also agreed that many other products and services aimed at them, such as van insurance, telematics and trade/building stores, are appropriate to be advertised at Motorway Services.
With that in mind, Admedia offer plenty of advertising solutions to capture this hard-working audience during their long stops at 136 Motorway Services across the country.
Our full-motion Nexus screens with dynamic activation have been used to great effect by many van manufacturers such as Volkswagen Commercial Vehicles and Fiat Professional.
Admedia's 1,300-strong network of 6 Sheets can be seen at every major pedestrian and vehicular pathway on the journey through the Motorway Services site, while these can be backed up by our unmissable A3 Washroom Panels that can provide additional information and interactivity in a high dwell-time environment.
As well as display advertising, Admedia also offer experiential options to brands looking to display new models or ranges directly to the most appropriate end user.
For further information about display and experiential van advertising, or the Drive Panel, please contact us here.
Sources: YouGov Profiles /Admedia Drive Panel August