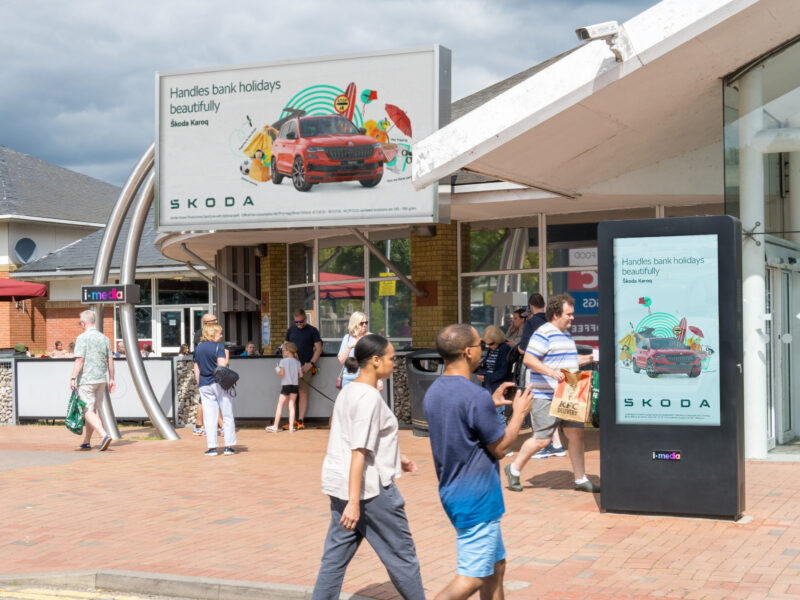 i-media launches ground-breaking dynamic ANPR campaigns triggering ads in real time with four motor clients, Peugeot, VW, Toyota and Lexus
i-media, leaders in motorway services (MSA) OOH advertising, has launched ad campaigns with four car brands which uses its new, ground-breaking real-time data. The campaigns use Automated Number Plate Recognition (ANPR) data to trigger dynamic digital ads in real-time when a specified vehicle car model enters the MSA.
Four car clients – Peugeot, Skoda, Toyota and Lexus – are using the real-time data to activate campaigns that target only a specific audience of drivers of a competitive set of car brands, also defined by age of vehicle and other factors.
The campaigns will deliver a pre-defined set of impressions by automatically scheduling triggered ad content when a certain vehicle or numbers of vehicle are present. The addressable ads are served to i-media's D48 and D6 screens, targeting audiences as they enter the MSA. The ANPR data identifies optimum and likely times of visit to aid planning in advance, but all ads are delivered only in real-time to reach pre-defined audiences.
Rhidian Taylor, Brand Marketing Lead at Škoda UK comments, "We are always looking for ways to make our advertising more targeted and relevant, so using i-media to specifically target competitor vehicles from their number plate makes perfect sense."
Anna Manfredi, Planning Associate Director at PHD on VW Skoda comments, "We are really excited to be activating with i-media's ANPR vehicle recognition tech. It represents an opportunity to be really smart with our targeting, minimising wastage and ensuring that we are reaching a hyper-relevant audience for our client. We're looking forward to working closely with the campaign results!"
Sam Tester, Head of Sales at i-media adds, "ANPR now allows clients to use genuine real-time data to activate campaigns based on audience behaviours and key moments in the MSA environment. Data and AI are now playing a leading role for us in opening up more effective campaigns for a range of clients and helping us deliver a unique, market-leading intelligent media opportunity for brands."
i-media's CTO Jacob Jankel comments: "We can be extremely specific with our trigger conditions to ensure that they serve triggered ads into the standard ad rotation when certain vehicles are present. All this works within i-Media's cloud infrastructure via API feeds which gives us maximum flexibility when creating and executing campaign conditions."
The campaigns for Peugeot, Skoda, Toyota and Lexus, have run over the late-August period into September, coinciding with both the new car registration period and the busiest period for MSA coinciding with the August Bank Holiday weekend and the end of the school holidays, with MSAs attracting weekly visitor numbers in excess of 8 million.