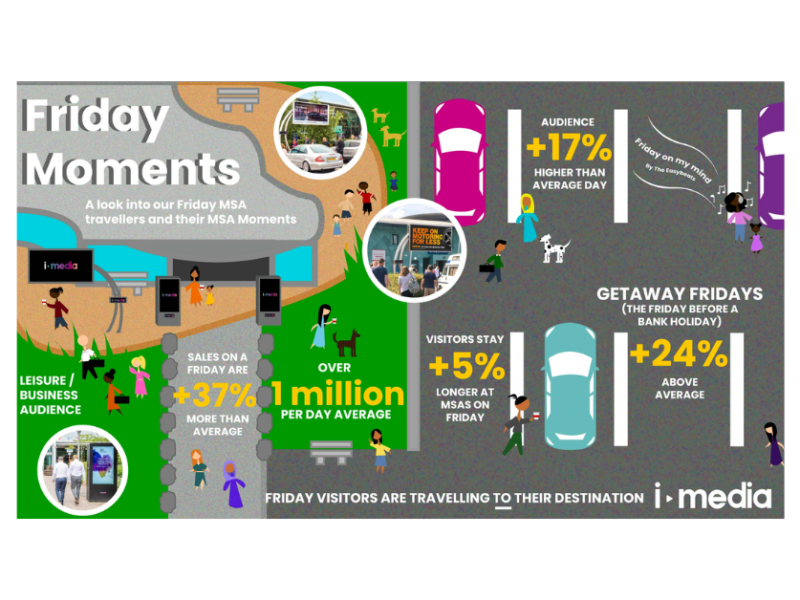 Fridays are our biggest single day for audience, with +17% more visits. These comprise leisure and business audiences, plus occasional "getaway" moments on bank holidays, summer school holidays and half term weeks.
Our biggest day for audiences is accompanied by a significant +37% uplift in EPOS sales, dwell time (+5%) and is the only day of the week which averages an MSA audience of over 1 million across the year. Our premium getaway Fridays see a +24% uplift in audience.
On top of this, Friday is the most established day for remote working. Recent evidence confirms audiences coming into city centres – particularly during work and commuter hours – is significantly reduced on Fridays. TFL audiences in the City (Bank) are still only half the level of January 2020 and total audiences decline on Mondays and Fridays. Anecdotally, many city centre food service outlets are not bothering to open on Fridays. Yet audience data used by the industry is not reflecting this, often failing to account for the actual audience movements we're seeing in real time!
Fridays are very much part of the weekend leisure audience, with people travelling to their destination in a very positive mindset. The day is also a powerful combination of leisure and business audiences, with remote working and commuting by car across the regions of the UK remaining significant. A strong reason to position MSA upweights and a cornerstone of an OOH campaign reaching leisure, business and SME audiences.
So, let's celebrate Fridays for multiple reasons. If Fridays aren't on your mind, they should be.