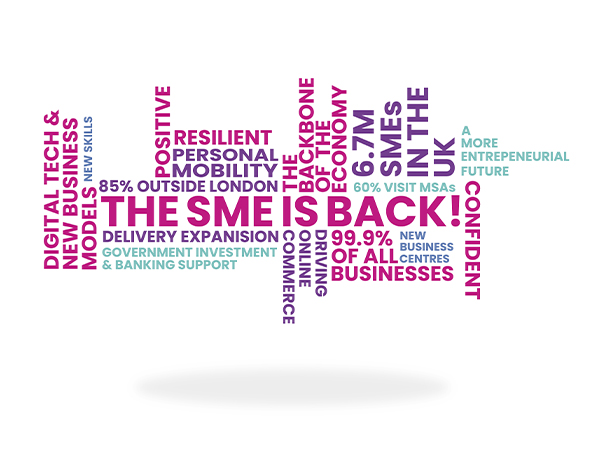 SME recovery rooted in resilience, mobility and a new digital focus
The pandemic has heightened the importance of the UK's 6.7 million SMEs – the backbone of the economy at 99.9% of all the UK's business – with many of us reappraising our lives, finding our entrepreneurial side and actually seeing opportunities coming out of the lifestyle changes still prevalent. Whilst ongoing economic conditions mean the group's resilience will be tested further, this group remains a viable and thriving audience of entrepreneurs, small and medium sized business owners and employees, and skilled tradespeople.
They represent over half of the workforce (61%), and predominately (85% of SMEs) operate outside London, effectively doing business linking the UK conurbations, rather than concentrated in them. A truly national entity.
Their business turnover is more than half the UK economy. 13% of adults are running fledgling businesses – the highest since 1990s (up from 8%) – and if the pandemic had one effect, it is that 70% of people in the UK adult population believe it is easy to start your own business.
However, Covid cost SMEs £126 billion, with many within the SME cohort up to 250 employees making cost reductions or re-prioritising new product development. The resilience and positivity of this audience also shone through, driving a quick recovery. Whilst half were adversely affected by Covid, half were not! And half of those seeking to start new businesses merely pushed back their timelines, but 27% actually moved these forward and 24% felt no impact.
Crucially, many SMEs adopted digital technologies, or a wider online presence. Some even created new business models entirely. We've already seen a +56% reported a rise in earnings (in Q4 2021), with SME transaction volumes up +42%. The majority saw an increase in Q1 2022 revenue (notably in leisure, entertainment, retail and food & drink) and 60% are using digital technologies to sell products and services. In short, the SME is back, displaying resilience and more fit for purpose than ever before.
£1 billion Government restart cash grants from local authorities and £14 billion equity investment into small businesses has helped drive recovery. As Colin O'Flaherty, Head of Small Business at Barclaycard Payments, comments: "Small and medium-sized businesses have had a positive start to the year and it's encouraging to see so many seeking to add to their workforce. SMEs are also remaining resilient by continuing to focus on areas within their control, such as by improving their operating models to overcome the hangover to supply chain disruption which peaked at the end of last year."
This is echoed by Jo Fairley, Co-Founder of Green & Blacks and SME Investor. "The strong start to the year for British small and medium-sized businesses, who are looking forward to an average anticipated uplift of +13.5% in earnings over Q1, is really great news."
Going Digital
The past couple of years has seen a transformative rise in online marketing and in the use of new technology amongst this community. 71% of growing businesses say they survived the pandemic through digitisation. 11% adopted new technologies to transform their business and there has been a rapid adoption of e-commerce (79% for example are now planning to offer permanent contactless services) and expansion into delivery services, with 2/3 online SME retailers investing in their own delivery fleet.
SMEs selling directly on Amazon created 175,000 new jobs with 60% of Amazon product sales come from independent selling partners (particularly strong in Home, Health & Beauty, Fashion and Toys). There has also been a +237% rise in SMEs selling on E-bay through the pandemic.
Mobility
This digitisation and e-commerce growth amongst almost all SMEs is matched by a wider national trend towards personal mobility and a general shift back to car use and private transport.
Car use for Business Trips shifted from 29% to 43% in 2021 and is now as high as 75% according to the NTS (whilst trains shifted downwards 14% to 9%). 57% of SMEs are not changing back to public transport post-Pandemic; companies expect the car will remain as main mode of transport, with a third expecting to use cars over public transport and 42% believing that a car is essential.
Furthermore, 1 in 3 plan to transition to an EV in the next year (with 15% already using). This means sustainability is being embraced by this community; a wholly significant 50% of the UK's carbon reduction ambition can be delivered by SMEs.
The Value of MSAs
A national, mobile audience, with 85% of its audience outside London, makes for a significant potential for the MSA network in particular as an evolving business environment. 2/3 of UK SMEs dedicate 15% of their working week to face to face networking and interaction and this means they are utilising the motorway network that connects conurbations to hold meetings and use as office space (one factor that has been forgone in large numbers).
MSAs deliver a regular weekday business audience. 60% of SMEs (3.9 million) visit MSAs annually; 19% (1.3m) are regular MSA visitors. Around half of self-employed business owners (3.1m) visit MSAs annually and 20% (1.3m) visit regularly. 70% of the MSA audience visits Monday-Friday, and many of these are regular visitors – 20% of the weekday audience stop at the same site every 2 weeks, with half making plans to stop at a specific location before setting off.
One incentive is the improving facilities to host business meetings and use as their remote workplace. There are 59 business centres nationally and 72 hotels. Other facilities are evolving and transforming the MSA space, attracting key SME decision-makers.
There is now a great opportunity to reach SMEs – bouncing back stronger, more mobile and adopting a more tech-led approach – at MSAs. Despite economic uncertainty, 2/3 of Brits still plan to start businesses at some time in the future; 11% this year! 80% of SMEs remain positive about the next 12 months – 60% expected a significant and incremental boost from the Platinum Jubilee double bank holiday – and this group's proven resilience will be needed over the next year with climbing economic uncertainty. The MSA environment is one place guaranteed to reach this mobile, entrepreneurial, and tech-led audience.