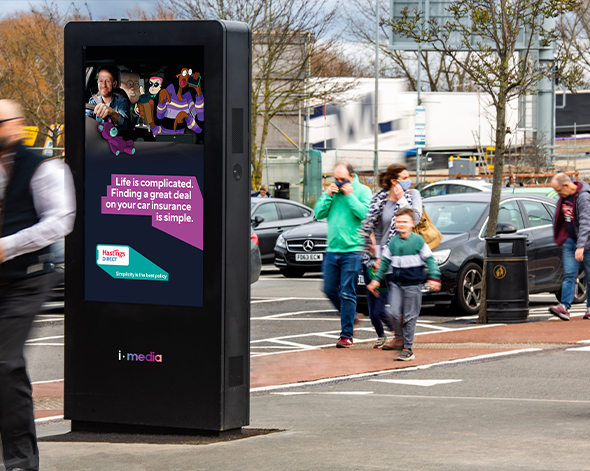 i-media commences D6 Roll out of 520 screens plus D48 Nexus upgrade and expansion to 130 locations
i-media, the leaders in motorway services advertising, has started its build programme of Digital 6 sheet (D6) screens, with 520 screens (on 260 double-sided units) to be installed across its entire network of Motorway Service Areas (MSAs).
20 initial screens have been positioned at five locations, with another 12 screens to be installed (on Monday) by the end of February. This means going into March, i-media will have built 32 D6 screens at eight MSA locations; on track for its Q1 target of 136 screens at 35 locations.
A further 204 screens will have been installed by the end of June, with the full roll out of 520 screens completed by the end of Q3.
In addition, i-media will add to its 50-screen D48 Nexus network, by installing a screen at each of its 130 MSA locations. The Nexus build will also be completed by the end of September and will include a full screen upgrade of each existing and new location. Screens will be upgraded to a pitch of 6.25mm and this process has also began in February.
i-media CEO Jonathan Lewis comments: "This ambitious digital installation and upgrade typifies the rapid transformation and recharge we are bringing to the changing MSA environment. Our commitment to improving and enhancing the advertising environment for our clients through this extensive screen roll out endorses our commitment to technology, data and quality of impact that defines outdoor advertising's role in the ever-changing media mix. This digital overhaul brings advertisers the best opportunity to reach a growing audience in an ever-improving environment in the most intelligent and accountable way."
The digitisation comes on the back of audience growth vs 2019 across the Summer and the second half of 2021, combined with infrastructure improvements such as Electric Vehicle charging points and a broad repertoire of retail brands that make MSAs a destination for all motorway users.