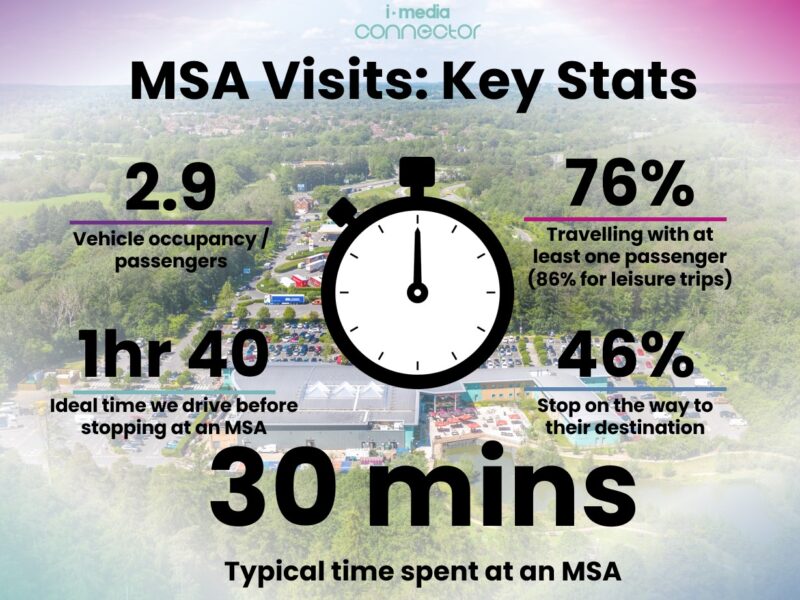 Defining MSA visitors: a leisure audience that's happy, positive, reflective and properly recharged
A new Connector study from i-media into audiences' behaviour at MSAs reveals that MSA visits are dominated by a leisure audience that tends to stop on their way to their destination, for around 30 minutes, with an average vehicle occupancy around 3 people. Most stop for food and drink purchases and comfort breaks, but also gift purchases and do other activities like dog walking, EV charging and to make a grocery shop.
Conducted this summer, the research study (a large sample of 1,500 visitors) looks at understanding the reasons for stopping, use of facilities, brand preferences and visitor mindset.
Whilst 80% of visitors have stopped at an MSA whilst taking a leisure trip – over 60% on their most recent visit – over half have also used whilst on business, working or commuting – 37% on their last trip.
When they do stop, most do so for food and drink purchases, and also to take a comfort break. Half take the weight off by consuming food and drink on the premises. 44% like to swap drivers, 22% walk the dog, 25% go to the Drive-thru and 37% get fuel or charge their vehicle. 20% do specific grocery shopping and 17% stop specifically to make calls or to send messages.
Our EPOS data analysis reaffirms these spending levels. As leisure audiences increase – for example over a Half Term holiday or Bank Holiday weekend – we see sales rise exponentially at MSAs by as much as 3x times the audience uplift, with books, impulse snacks, coffee and general grocery items leading the way.
MSA visitors are revitalised by taking a break, look forward to the MSA experience and leave in a better mood. They love the opportunity to interact with their favourite food and drink retail brands, including McDonald's – the most popular at MSAs – but also Greggs, Costa, KFC, Burger King, Starbucks and M&S. 43% make a stop to enjoy a particular brand; around half plan a stop at a particular location because it's on a familiar or regular route.
There's a real high value now associated with stopping at an MSA. 61% actually look forward to the experience of taking a break at an MSA. This helps 64% feel more relaxed after their visit. Other evidence confirms that relaxed customers are bigger spenders and happy to spend +15% more than usual. They think more about the value of a purchase at a more abstract, emotional level, rather than purely functional. Over three-quarters of visitors leave the MSA in a better mood, aiding memory, familiarity and perception of their whole experience.
This experience helps with some specific brand communication messaging. Because they have often spent a long period of time in the car, together with family members, this heightens our awareness of reliability and performance issues with their car. As a result, MSA visitors are much better primed for new car advertising messages. 59% say their experience increases awareness of vehicle reliability, for example. 43% – a significant chunk of the audience – are more likely to think about replacing their current vehicle in the MSA environment whilst on a longer car journey. MSA presence for brands is therefore a perfect time to trigger audience perceptions around new car consideration.