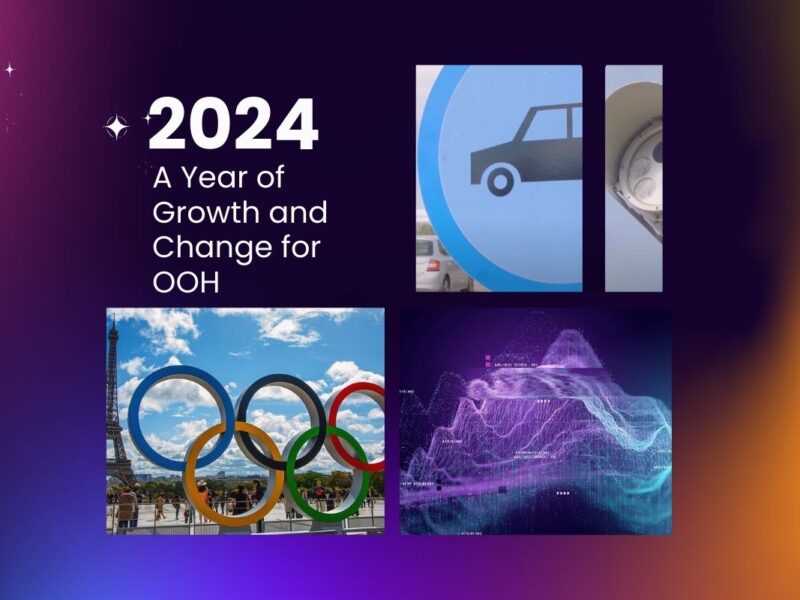 2024 – Let's Get Real-Time: A Year of Change and Growth in OOH 
2023 can be best described as a year of challenges but for media and OOH there's been strong evidence of a rebuild. At i-media, reaching audiences with stand-out digital assets in motorway service areas and using data and technology to fuel dynamic and effective advertising, there's been transformation and audience growth. A year of real change and progress.
2024 will be a year of change for the industry, certainly. Whilst we should all be amplifying the enduring benefits of OOH in delivering reach and impact to counterbalance the reach and attribution struggles of our mainstream media, there will be a further shift towards automation (aka programmatic), and a more important transition to real-time and location data that's increasingly accessible.
2024 will be a landmark year for events; the Paris Olympics, a general election here and an era-defining US election will all impact the economic landscape. Who knows how the geo-political landscape will define society? But technology, data and sustainability will continue to dominate society's agenda – even more so.
UK Moments will continue to define behaviours, with events ranging from a Wembley Champions League final to the 52nd Glastonbury. Music events have never been better attended. Meanwhile, the continuing popularity of UK staycations (as the economy continues to bit) will be central to how brands can reach audiences.
A year of projected growth for UK advertising and in digital OOH suggests the importance of planning around some defining Moments and reaching audiences in the right context.​ Moments are increasingly important for brands to reinforce messages and drive engagement. For i-media, our audience is truly defined by MSA Moments, where we see audience peaks coincide with family and leisure activities. This audience continues to grow.
But we can't ignore fundamental consumer change. The impact of flexible working and technology is transforming our media consumption. Real behaviour change around commuting and leisure times, whilst city and shopping centre footfall decline is the result of economic reality, flexible working and regional ULEZ policies.​ The dynamics of retail opening hours and public transport use have changed fundamentally. Some regions are even living with "the half week high street".
In a similar vein, the steady rise of online/on the go purchasing and cynicism around brands' commitment to sustainability, will necessitate brand experiences with multiple touchpoints targeting people in a more relaxed mindset.​
More agile media plans need to embrace this fundamental societal change, nowhere more so than in OOH, where programmatic consolidation and smarter planning will accelerate the use of real-time and location-based data. The decline of TV viewing, particularly amongst younger audiences – means the big TV-driven brand campaigns are constricting and harder to deliver. ITV has already shed content this year to appease the City. That is not to turn away from the values TV brings, but to embrace an omnichannel route to ensure reach and audience context as a minimum viable proposition. And certainly one that realises the data that is available to planners.
Digital OOH is expected to grow by around +7% next year. But growth has been generally underwhelming across the channel since the pandemic. Recognising consumer change remains paramount in selling the value of OOH, finding and reaching audiences and delivering context and relevance.
Brands supporting OOH – and certainly those using programmatic OOH (now a double-digit % contributor to OOH revenues) should pioneer the use of the right data to understand audience behaviour and tracking in real-time. As a minimum.
Whether reflecting the shift in peak traffic moments or finding an audience with the right mindset, it leads us towards a more agile approach and perhaps a braver one. A key consideration for planners has become: is your media channel delivering audience growth? And how is that audience consuming your message?
At i-media we have progressive and actionable real-time data that is used to reach audiences and trigger dynamic campaigns. Planning around Moments to reach audiences in right context and right location is now something we can achieve as standard. Something that actions the shifting dynamics of flexible working and consumer presence.
Beyond that, embracing data sets like ANPR and EPOS to inform, deliver and measure campaigns gives clients something genuinely new and effective.
Furthermore, the over-supply of some OOH formats – particularly in digital roadside in cities – makes our medium heavily skewed towards certain locations. A disproportionate 62% of UK OOH impacts are delivered or supplied in London alone. This only adds to the importance of national and regional campaign consideration, and re-evaluating the targeting of some commuter environments and placing the impact full-motion can have on effective brand messaging as a higher priority.
And beyond the disruption likely from a fractious General Election next year, the renewal of TFL's contract for London Underground and bus shelters could well alter the OOH trading landscape. It makes for interesting times and reiterates the need to plan for change.
The Out of Home community has certainly reinforced its sustainability credentials and the MSA environment contributes to that, with advertising revenues contributing to important services, recyclable energy and paper used, growing investment in EV charging facilities and the use of EV service vehicles. 2024 will see clients increasing demand for recyclable solutions (Out of Home stands strong versus digital online in this respect) and brands more closely aligning to sustainable projects, in light of waning consumer trust in a widespread business commitment to the green cause.
For i-media in 2024, our transformational approach to delivering accountable communication opportunities to growing and relevant audiences is rooted in audience, data, technology and sustainability. Relevant data including ANPR and EPOS allows us to deliver better-planned, dynamic, lower wastage and more accountable and effective campaigns. All as standard. Like many, we've transformed into an agile business to deliver accountable and relevant audience moments. Recognising and embracing change will be an important part of the future of OOH as it transforms to reflect consumer change in the UK.