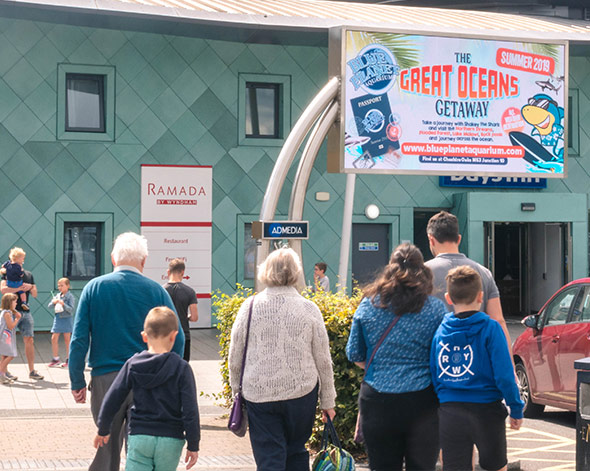 Servicing the Half Term Traveller
Although the weather is still quite warm and the children seem to have only just gone back to school, October half term is only a few weeks away!
With families using this valued time off as an opportunity for a holiday, short break or activity, the UK's roads will definitely be super busy – in fact, 67% of families on the road will stop at a Motorway Services on their way to an October half term trip!
This means that our 136 Motorway Services that cover the length and breadth of the country will be packed with adults and children looking for a washroom break, an opportunity to stretch their legs and something to eat and drink to keep them going on the onward journey.
That's not all they'll be looking out for, however – our bespoke Family Research told us that 72% of families on the road don't have a set list of activities in mind before they set off, so many will be looking for inspiration too. This could be a local attraction such as a theme park or zoo, or maybe the latest movie for those rainier days.
With this in mind, Admedia offers a plethora of advertising solutions which are perfect to capture family travellers with a variety of needs.
Nexus, the UK's largest external network of full-motion large-format digital screens, is perfect for a multitude of opportunities – this could range from running a trailer for a new movie, to using dynamic activation technology to advertise local attractions depending on the weather.
With 6 Sheets covering the vehicular and pedestrian routes around the Motorway Services site, there is the ability to influence impulse snacking travellers heading towards the shops, while those visitors needing a comfort break can't miss the high dwell time, 100% gender targeted A3 Washroom Panels that can offer much more detailed information and increased interaction.
Families using Motorway Services are 105% more likely to go on a holiday/break this October than the average family, according to YouGov. Brands who have already connected with the family audience at Motorway Services included the Blue Planet Aquarium, Eden Project and Sky.
To connect your own clients with this audience, contact us here for more information.
Sources: YouGov Profiles / Admedia Family Research