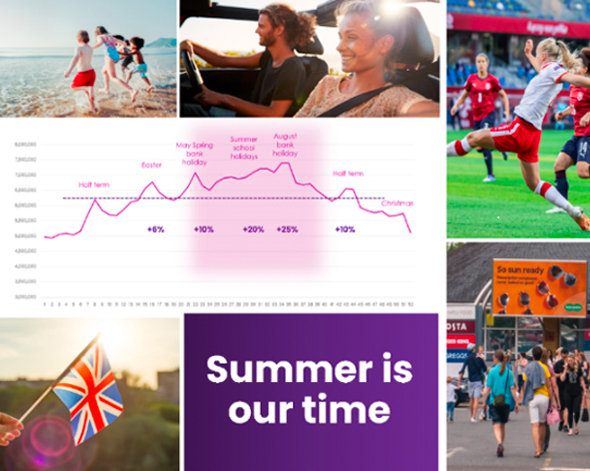 The staycation is well and truly back as many Britons are deciding to pack their suitcases for coastal and rural destinations.
The population is also buzzing for the upcoming and highly anticipated sporting events; Commonwealth Games and Women's Euros both being held in the UK. Along with music festival events like Glastonbury, we can expect our audiences will take full advantage of the summer period travelling across the breadth country to long awaited events.
Staycations are becoming even more important again as the current cost of living crisis and airport disruptions are deterring people from taking holidays abroad. 'Spending on hotels, resorts and accommodation rose +17% compared with April 2019.' Tourism chiefs have reported a surge in reservations in recent weeks as travellers turn to the beaches of Dorset, and industry expert's advisors say staycationers book sooner rather than later. As one tourism chief says; 'Staycations are still very popular, but the cost of living crisis means holidaymakers are increasingly looking to save money wherever they can.'
The summer is a Key Moment with an average weekly MSA audience of 7 million & an average of 7.4 million during our summer peak August bank holiday. We can expect to see an MSA uplift during this the summer with people continuing to 'staycate' and take trips closer to home.
We have already seen the Platinum Jubilee weekend kick-start the summer. Our Early audience data indicates we have seen double the effect what we normally see (+19%). We expect this level will continue and get even higher during summer.
Micro Moments like sporting events and festivals create significant regional audience bubbles to MSAs. The importance of popular events like Glastonbury and the Commonwealth Games have a huge impact on our MSA audience uplift.
MSAs are a key refuel moment for festival audiences, ensuring a stock up on brands and products for the six-day event. Data shows us that sales across MSAs ahead of previous Glastonbury were up +22% with hygiene brands. Including dry shampoo +30%, travel size toiletries +84% & antibacterial wipes +262%.
Research shows us that a third of ticket-holders will travel using public transport. With the recent announcement of train strikes during the Glastonbury period, coach ticket packages sold out in 18 minutes and the high demand for car-shares, we can expect a huge audience uplift with people using local MSAs as a vital hub to recharge and refresh.
The anticipation and excitement for the Women's Euros and Commonwealth Games is extremely high as tickets for both major sporting events are expected to sell out. The Women's FA Cup Final had a record attendance, so we can expect this high level of interest and participation for both this summer.
From real audience data we know there is an increase in MSA visitors from travelling sports fans on specific routes. With the Commonwealth Games geographically spread across 14 venues, we can expect an MSA audience increase as many people will be travelling from all over the country to attend games.
This comes at a time when MSA audiences are thriving. Our May data shows we were up +12% on 2021 still above 2019 levels and already +3% above our annual average audience. This reflects the MSA audiences going from strength to strength and looks promising for continuing over the summer as staycations, festivals and events thrive.
These stats contrast with the country's current experiences and the current audience trends across transport and city centre environments.
Hybrid working still seems to remain popular as 24% of the population are still working between home and the office. 38% of people are no longer working full time at their working place. Returning to the office is seeming less popular in the UK than in Europe as UK commutes are at 78% of pre-pandemic levels. This is having effect on the number of passengers on public transport. Tube passengers remains at 70% of pre-Covid levels, according to TFL figures.
Passenger numbers at City stations such as Bank have lagged behind the general recovery, at 55%-60% of 2019 levels. Workers in London have been slower to return and South Western Railway says that rush-hour arrivals into London Waterloo have only recovered to 50% of the number pre-pandemic
City centres are at 81% of pre-Covid audience levels. Meanwhile at weekends people are travelling further to enjoy buzzing city centres. Retail footfall is now less than 10% off pre-Covid levels, at 90%.
MSAs are good way of augmenting OOH audiences as the summer still promises some broader travel uncertainty.
Have a great summer!