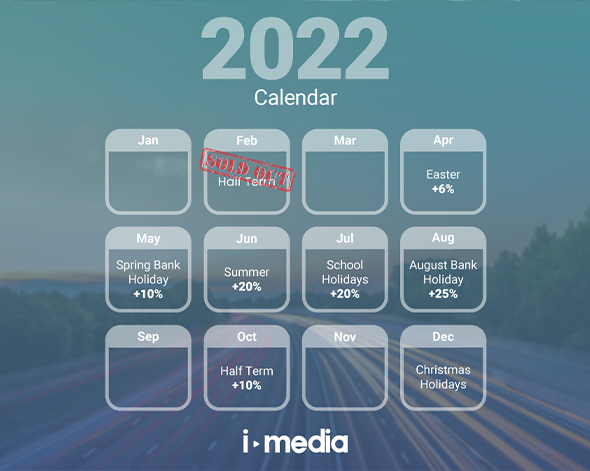 The MSA audience is boosted by Audience Lifts at Key Moments across the year
Our ability to accurately measure audience mobility at MSAs, thanks to vehicle camera data, not only demonstrates the full recovery in motorway journeys post-pandemic, but also enables us to track the nuances in MSA visits across the year, fundamentally dictated by the UK public's opportunity and inclination to travel.
The weekly audience to MSAs making the most of the opportunity to recharge and refuel and to take that all-important break from motorway driving, is an average of 6.3 million across the year. This significantly fluctuates seasonally, creating visual peaks that mirror key travel times for family audiences.
MSA audience peaks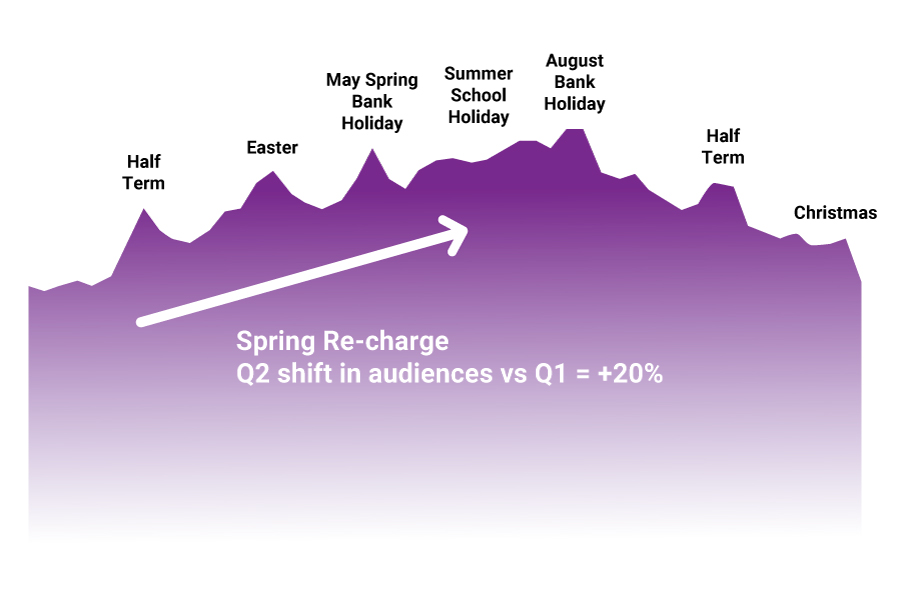 The first Key Moment of the year comes in the February Half Term when audience numbers leap to around 6.2 million a week, up +15% on Q1 MSA audience levels before remaining at levels around 6 million for the remainder of the quarter.
Q2 sees a significant spike vs Q1, a +20% shift as MSAs become busier around the Easter period, school holidays and then accelerating towards the Spring Half Term week. In 2022, this week is being extended into early June. With the Staycations boom predicted to remain in place, this will create an extended audience spike into the June festival season (where a +10% audience spike is expected at local MSAs for the Glastonbury Festival).
The Summer sees MSA weekly audiences reach 7 million, rising to 7.4 million and a +25% uplift around August Bank Holiday. A sustained uplift of around +20% from June-September reflects the importance of motorway travel as we utilise the leisure opportunities at our disposal and maximise our visits to friends and family and short breaks away. October Half Term provides a further uplift in audiences, peaking at 6.6 million and +11% on Q4 travel.
Each period provides significant value in reaching an audience with a positive and leisure-focused mindset. People spend time and money at the MSA locations – the average dwell time is 20 minutes (and considerably longer for families) – and record 94% visitor satisfaction levels as we stop for rest, recovery and recharge.
In terms of the relevance of the MSA Moment to audiences, we see a +12% uplift for the average Moment – much higher in the Summer – and a Half Term audience gain of +6% (again, higher when considering the seasonal effect). Granular analysis can further identify peak travel days.
Importantly these Moments – and micro Moments like sporting events and festivals creating significant regional audience bubbles to MSAs – generate a more active audience and have become an important part of the leisure experience on journeys. As Staycations continue to thrive, and destinations become more varied, the national MSA network (i-media has screens and advertising opportunities and digital screens in 136 locations) is an important location to reach audiences as other travel destinations struggle to fully recover post-pandemic.